Sport on Bolton FM
Series 2 Episode 1 - Ian-Evattably!
Talking Trotters
Talking Trotters is back for a new season. On this episode, the boys talk the arrival of Ian Evatt, and the first 3 new arrivals at the UniBol. Plus a (very) brief review of the League 1 campaign.
Saturday, 01 Aug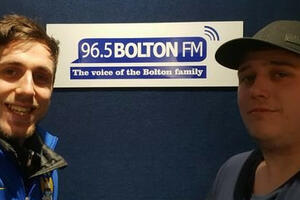 The FANalysis Midweek Sports Show
8pm - 10pm Thursday
Join Harlan, Danny and Kian for another instalment of your weekly FANalysis show bringing you reaction to what's been happening in your local sporting area and beyond.
More
Saturday Sport
2pm - 6pm Saturday
Join the team for all the latest news from the world of sport at a local and national level.
More
Bolton FM Sport: Wednesday Lockdown Club
6pm - 8pm Wednesday
Join Jim for sporting discussion from Bolton and beyond on your Wednesday Night Delight.
Wanderers Live
2pm - 5pm Saturday
Bolton Wanderers vs Port Vale. Join us from 2pm for pre match build-up. Full match live commentary with Derek Clark from The University of Bolton Stadium at 3pm. #WanderersLive
More
Wanderers Live
2pm - 5pm Saturday
Walsall vs Bolton Wanderers. Join us from 2pm for pre match build-up. Full match live commentary with Derek Clark from The Banks's Stadium at 3pm. #WanderersLive
More
The Latest Wanderers News from The Bolton News
Keep up with all the local sport Follow us on Twitter