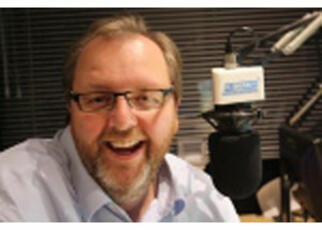 Big 'H'
Presenter
Standing at over six foot three tall and built like a prop forward, one day my mate called me Big H and I went from being known as Andy Hargreaves to Big H.

I have been involved in the radio industry for over 33 years and started my career in Manchester at the former Piccadilly Radio 261 and have gone on to work for stations all over the country. I have helped to create radio stations and as a voice over artist I am also the voice of radio stations all over the world.

The chance of being Prime Minister when I was younger seemed a distant hope (If only I knew then what I know now I am sure it will be my turn soon) I pushed trollies around a car park at a supermarket and then worked in an office but radio was always in my blood and I combined a sensible job with one of talking inbetween songs.

I love music from all genres and was brought up on Sinatra, Sammy Davis Jnr., Queen and Shirley Bassey. I love cheesy pop and try to get away with playing the odd (very odd sometimes) novelty song.

When not in a radio studio I love to watch Coronation Street, James Bond and Carry On movies. I love comedy, meals out, walking and holidays.

Catch me Monday to Thursday 9am to 11am on Bolton FM where you can join in with Hits and Headlines and see if you can guess the year with clues from the news and songs from a chart of this week of one particular year. After 10am you get the soap spoilers and the latest showbiz gossip as well as some songs you won't have heard for ages.