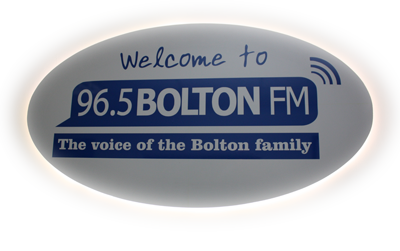 Bolton FM is a multi-award-winning non-profit community radio station brought to you by more than one hundred local people every week.
We broadcast 24hrs a day from our studios located at the Bolton Market on Ashburner Street in the heart of Bolton town centre.
We encourage new, unique and innovative radio with a relevant and local feel. All of our shows are produced and presented by volunteers and we offer our town an exclusively local radio service that promotes local events and focuses on local news and sport. We welcome input from local sports teams and voluntary groups.
We are also famous for our fantastic and varied taste in music. We cover everything from unsigned bands to specialist music shows, talk programmes and much much more.
The Bolton FM Charter
Bolton FM has been set up to serve the community of Bolton, and to serve the volunteers of this community who wish to become involved in it. Bolton FM and its volunteers subscribe to the following codes of practice:
To promote the right to communicate, to assist free flow of information

and opinions, to encourage creative expression and to contribute to the

democratic process and pluralist society

To be responsive to the wider environmental and future needs of the

Bolton community.

To provide access to training, production and distribution facilities, to

encourage local creative talent, to foster local traditions, and to provide

services for the benefit, entertainment, education and development of

their audience

To seek to have volunteers representative of local geographically

recognisable communities or of communities of common interest

To be editorially independent of government, commercial and religious

institutions and political parties in determining their programme policy

To provide a right of access to minority and marginalized groups and

promote and protect cultural and linguistic diversity

To honestly inform their audience on the basis of information drawn from

a variety of sources and to provide a right of reply to any person or

organisation subject to serious misrepresentation.
Community Radio in the UK is regulated by OFCOM. You can find out more about Community Radio on the Community Media Association's website.
The following OFCOM reports are available for download:
Full competition terms and conditions.